Carroll Collier Family
Texas

---
Carroll Lloyd Collier


b. 18 Mar 1923 Dallas, Dallas Co., TX

d. alive


m. Midred Louise Ferguson 9 Nov 1946 Oak Christian, Dallas, TX
b. 12 May 1927 Dallas, TX
d. alive
her father: Forest Ray Ferguson
her mother: Lillian Steams



his father - Walter Smith Collier
his mother - Mable Clara Thomas
children with Mildred Ferguson

John Carrol Collier

b. 26 Jun 1948 Dallas, Dallas Co., TX
d.
m.Shirley Ann Ferrell 18 Aug 1967
(b, 18 Nov 1946)
Lilla Ann Collier
b.21 Nov 1949 Dallas, Dallas Co., TX
d.

m. Johnny Mack Wortham 23 Mar 1968 Wolf City, TX
(b. 4 Sep 1949)

Loraine "Lori" Collier
b.5 Nov 1954 Dallas, Dallas Co., Tx
d.
m. Gary Stephen Howell (b. 31 May 1951TX)
Stephen "Steve"
Ferguson Collier
b. 3 Apr 1956 Dallas, Dallas Co., TX
d.
m. Barbara McCollough (b. 18 Dec 1955 Midland, TX)

Thomas "Tom" Collier

b. 3 Jun 1962 Dallas, Dallas Co., TX
d.
m. Debbie Shackelford 24 Aug 1985 Austin, TX
(b. 29 May 1961 Austin, TX)

Grant Norman Collier
b.21 Dec 1964 Dallas, Dallas Co., TX
d.
m.



Carroll lived in Dallas where all the children attended school and graduated. Carroll Collier takes some art instruction from Forrest Kirkland, a first cousin of Carroll's father. He worked for Forrest for a while at six dollars a week but didn't find this enough and eventually took a job for more money in another field. This was a especially important during the Depression.

"Forrest had taken a mail order course in drawing at some point. He invited me to his house once a week to teach me drawing and let me take the mail order text home to study from. I was fourteen at the time I worked for him for a few months at six dollars a week, depression period, then took a job that paid more,but not in the art field."[Carroll Collier email 2/22/05]
1942 -"I was in the Army at the time. My school was the art department while in the service. Other than that my schooling was from books and practice. " [Carroll Collier email 2/22/05]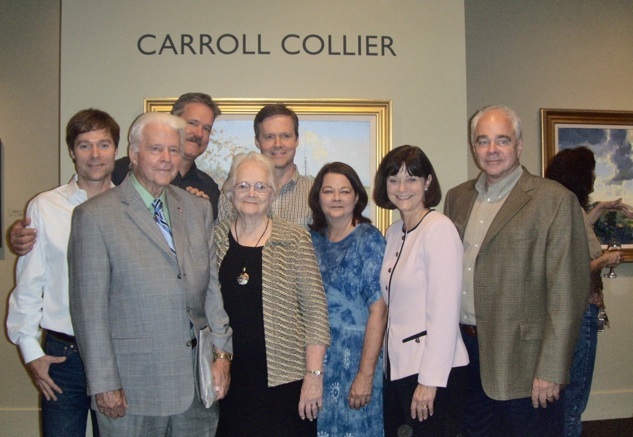 Carroll and Mildred Collier with children in 2008
"Carroll and I in front and our children behind.
From right to left in birth order are John, Lilla, Lori, Steve, Tom, and Grant."

[photo courtesy of Carroll and Mildred Collier]
See Carroll Collier's work here Gallery Shoal Creek.com
"The kids were around art all their early lives," says Carroll, "and they all have an interest in and a talent for art." Even so, the Colliers were reluctant to push their children into the art field.

"John demonstrated great talent", recalls Carroll. "In his teenage years, I could see it, but knew if he was going to succeed as an artist, he had to do it on his own initiative. I had seen too many aspiring young artists who did not do well in the field. I didn't want art to break his heart." [bio. from the Gallery Shoal Creek 2004]
Carroll's oldest son, John Collier, is a very well known illustrator and sculptor.

See John Collier's work here http://www.hillstream.com/artist/john-collier/sculpture-gallery

More recently John Collier received the commission to create a memorial sculpture for St. Peter's Catholic Church in New York which is one block from the World Trade Center and whose parishioners worked in the center and were lost on 9/11. It is known as "The Catholic Memorial at Ground Zero".

Grant, Carroll's son, is working in New York as a web site designer. Tom and Steve are both Architects in Austin TX. Tom has just received a Phd in biomedical Engineering from the U of TX.[John Collier email 2/22/05]


Edith Collier and Roy Kirkland, Forrest's son, go to movies together while she is in high school.

1970 -" I gradually went from illustration into the fine arts starting in around 1970."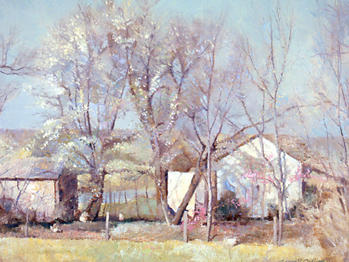 Carroll Collier. "Spring," oil 1973 "18 x 24"
reproductions by permission of the artist.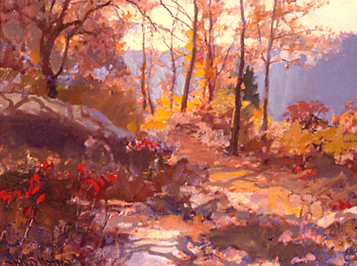 Carroll Collier. "Stone Mountain, Georgia," oil 2005 24" x 30"
reproductions by permission of the artist.
sources:
Carroll Collier email 2/22/05 records "collierforney@earthlink.net"
John Collier email 2/22/05 "johncollier01@comcast.net"
Petty, Edith Lorene Collier. records of "edithpetty@mindspring.com"
Gallery Shoal Creek, biography 2004, web site

---






All information and photos included within these pages was developed by the help of hundreds of researchers. The information here is for the express purpose of personal genealogical research and is freely offered as long as this site is listed as a source. It may not be included or used for any commercial purpose or included in any commercial site without the express permission of Elroy Christenson. Copyright Elroy Christenson 1998-2008.




web pages created by Elroy Christenson- elroy@next1000.com- last updated 3/28/10